Disco Cures Cancer
Disco Cures Cancer Is Back!
WIFC's Disco Cures Cancer is a Party for a Cause! Back for its 17th year, Disco Cures Cancer is aiming to donate more than ever before!
Last year, $23,000.00 was raised for Aspirus Cancer Care, and over the past 16 years, a total of $175,000 has been raised!
What to Expect
Have you heard all about Disco Cures Cancer every year, but never actually gone?
Well, it's all about finding, then wearing the wild crazy clothes of the disco era. Stuff like Wild Hair, Platform Shoes, Polyester Bell Bottoms, chains and bling, and then DANCING...Disco was all about staying out on the floor and "shakin' what your momma gave ya."
NEW THIS YEAR: We're adding to the awesome disco music of years past with 80's, 90's & today mixed in!
The best part is, while you're having all this fun, you'll be helping unfortunate cancer patients.
Join us starting at 7:00pm on October 17th, 2014 at the Rothschild Pavillion!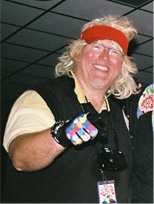 As WIFC's Dave Kallaway puts it:
WIFC listeners really get this concept and tell their friends every year...'C'mon let's go to Disco!'

Plus, I am humbled by the many survivors of cancer that tell us that they appreciate our efforts or that they were able to use our funds to get through their cancer treatments. I originally thought WIFC's Disco Cures Cancer would go maybe 1 or 2 years at the most...well...that was 14 years ago...
Want to Learn More?
If Disco Cures Cancer sounds like fun to you, or if you'd like to learn more about it, check out our event info page, which has everything you need to know about this year's event.
Also, don't forget to check out our photos and videos from last year's Disco Cures Cancer.