Disco Cures Cancer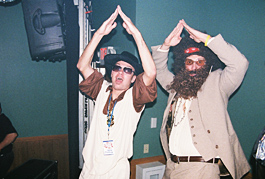 Event Information
Come celebrate 15 years of Disco Fever with us October 19th, 2012 at our new location, The Rothschild Pavilion. The grooving begins at 7:00pm and won't stop until midnight.
Underground DJs will be keeping the party going all night long with their entertainment (special thanks to them for providing all the sound and lighting equipment).
We want to make sure you know what's going on, so we have listed all the need-to-know information below.
Location
We could't find any place bigger than the newly renovated Rothschild Pavilion, so there's plenty of room for all night dancing on two dance floors, multiple bars and a vending area.
The Rothschild Pavilion
1104 Park Street
Rothschild, WI 54474

Beverages
Fabiano Brothers is proudly serving various Budweiser products and other fine refreshments.

Tickets
Tickets are $25.00. Purchase tickets in advance at any one of three locations or online. We recommend purchasing in advance but tickets will be available at the door and with a larger venue this year we hope to draw our largest crowd yet.
Tickets are available at:
WIFC Studio - Wausau
557 Scott Street
Wausau, WI 54403
715-842-1672

WIFC Studio - Plover
2460 Plover Road
Plover, WI 54467
715-344-6050

Crossroads County Market
220 South 18th Ave.
Wausau, WI 54401
715-845-8846