EZ Money
We're giving away thousands of dollars with no strings attached, and you can get your hands on some of it, just for listening!
How Does A Free Benjamin Franklin Sound?
What would you do with an extra $100? Go out to eat at a nice restaurant, buy yourself something nice, or maybe just fill up you gas tank once or twice?
Whatever it may be, we're sure you can find a good use for some free money.
Here's How It Works
We know your time is valuable, so we want this to be as quick and simple as possible.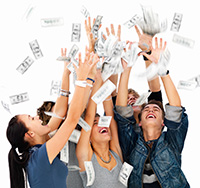 Register and tell us when you normally listen to WIFC.
Listen to us during the times you normally do. We promise to call you only during the times you say you listen to WIFC.
If we call you, simply name an artist or song we played in the last 30 minutes, and you win an easy $100 bill from us.
All non-winner names will be put back in the drawing for more chances to win!
Simple, right? We won't waste your time making you jump through hoops to win. No busy signals. Win when you have the time.
I Want Some Free Money!
Sounds great to me, sign me up for some free cash...I'll be listening!