« back to Movies
Anna Karenina
Release Date: None
Genres: Drama
Cast: Keira Knightley, Jude Law, Aaron Taylor-Johnson, Kelly Macdonald, Matthew Macfadyen, Ruth Wilson, Domhnall Gleeson, Alicia Vikander, Olivia Williams, Emily Watson
Directors: Joe Wright
Official Site: http://focusfeatures.com/anna_karenina
Distributor: Focus Features
A bold, theatrical new vision of the epic story of love, adapted from Leo Tolstoy's timeless novel by Academy Award winner Tom Stoppard. The story powerfully explores the capacity for love that surges through the human heart. As Anna questions her happiness and marriage, change comes to all around her.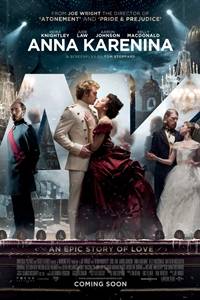 Show Times / Buy Tickets
There are no current showings for Anna Karenina in this area.