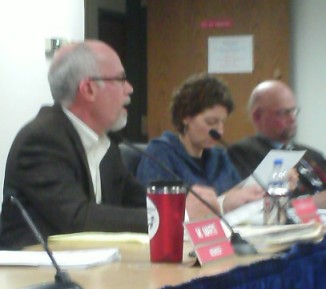 STEVENS POINT, Wis. (WSAU) – Stevens Point school board members brainstormed ideas Monday about how to overcome a $8 million budget deficit as they evaluated an administration proposal for permanent reductions.
The district has proposed $3.8 million in cuts that would be made for good. If approved, the cuts would form the basis for the district to seek voter approval of a smaller referendum in the spring than the three-year, $23 million dollar one they rejected last month. Another $3.7 million in cuts have been suggested if the referendum fails.
Board member Ed Morganroth Junior offered his idea for a two-year, $9.5 million non-recurring referendum. Approving that would give the district enough time to come up with a financial stability plan. Making it non-recurring, meaning the revenue limits would not be permanently raised, would also alleviate voter concerns of granting the district a blank check, he said.
Board member Jeff Presley, meanwhile, recommended the district re-open negotiations with its five unions in an effort to gain concessions even though all have already agreed to a wage freeze.
"When push comes to shove, we need dollars, not ideas," Presley said, as he thanked union members for attending two community listening sessions and offering cost-saving measures.
"Ultimately what it comes to are cuts," he said.
On the chopping block, if a referendum fails, are 15 high school teachers, 12 middle school teachers, 11 teachers in the district's SAGE program, 6 elementary school teachers and two building administrators. The district would also eliminate elementary music programs and some sports and extracurricular activities.
Some board members were unwilling to approve cutting all of the teachers and sought more information on certain budget reductions before approving them at a later date.