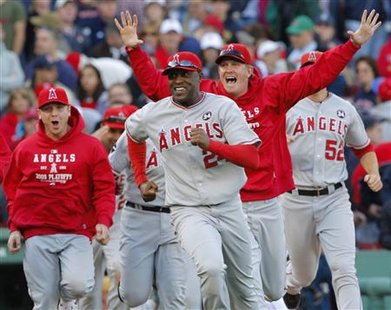 By Scott Malone
BOSTON (Reuters) - The Los Angeles Angels snatched victory from the Boston Red Sox in the ninth inning of their Sunday matchup, winning 7-6 and sweeping the best-of-five American League Division Series 3-0.
A big-hitting finish allowed the Angels to erase a lead the Red Sox had held since the third inning, silencing Boston's stunned fans and ending the team's season.
"The season doesn't wind down," Red Sox manager Terry Francona told reporters. "It just comes to a crashing halt."
The Angels had gone into the eighth inning down 5 to 2, knowing their only option for victory was to push Boston's pitchers, said manager Mike Scioscia.
"I don't think there was a time where we had one defining moment," said Scioscia, whose team had crumbled to the Red Sox the last two seasons. "We knew, 'keep pressuring them, get a hit to fall in.'"
The tide started to turn for Los Angeles in the eighth inning, when Juan Rivera narrowed the gap to one run with a single to right field that drove in two runners.
The Red Sox extended their lead to two runs in the bottom of the eighth, but the Angels came back swinging in the ninth.
Angels' right fielder Bobby Abreu hit a double to left field that cut the Sox lead to one run.
Red Sox relief pitcher Jonathan Papelbon then intentionally walked Torii Hunter, loading the bases with designated hitter Vladimir Guerrero coming to the plate.
"When they walked Torii, my main focus was to go and find a good pitch to hit," Guerrero said through an interpreter. "I wasn't looking for a particular pitch, just a strike."
Guerrero found a pitch he liked, and hit a single to center field that brought in two runners and gave the Angels the victory.
Francona said the decision to walk Hunter had been a tough one, but seemed like a worthwhile gamble.
"It's tough to walk the bases loaded," Francona said. "But Pap (Papelbon) throws strikes and he had had a lot of success against Guerrero."
The Angels will next face the winner of the New York Yankees-Minnesota Twins series.
(Editing by Mark Meadows)