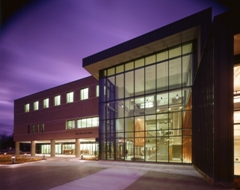 STEVENS POINT, Wis (WSAU) The U-W Stevens Point campus was locked down earlier this morning, for what turned out to be a false alarm.
A maintenance worker saw a student carrying a suspicious package into the Noel Fine Arts Center. The package appeared to be a wrapped up weapon.
The worker called campus police who locked the building down and evacuated classes to the library, said university spokesman Stephen Ward.
Authorities found the package – a prop sword for a theater class.
The school alerted students and teachers via its internal notification system to prevent rumors from spreading. It sounded the all-clear about 40 minutes after the lockdown occurred.
"Most of what occurred today was a good thing," Ward said.
"We had a prompt alert from a member of the university community that saw something that didn't quite look right and a very quick response from law enforcement."