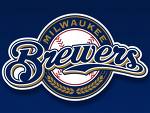 MILWAUKEE (WSAU-SN) - Jody Gerut provided the go-ahead run with a pinch-hit RBI double during a two-run sixth, as Milwaukee overcame a rough start from Doug Davis to take the rubber match of a three-game series with Colorado, 5-4, at Miller Park.
George Kottaras, making his Brewers debut, added a sac fly in the sixth and had an RBI groundout. Jim Edmonds collected two hits and scored twice, while Alcides Escobar and Rickie Weeks each drove in a run.
While the Brewers scraped together the necessary runs after spotting Colorado a three-run lead, Milwaukee's bullpen registered five scoreless innings to give the hosts their first series win against the Rockies since July 13-15, 2007.
Todd Coffey (1-0) took over for Davis and tossed two scoreless frames to pick up the win. Trevor Hoffman notched his second save in as many days with a spotless ninth and is now seven saves shy of 600 for his career.
Davis allowed the first five Colorado batsmen to reach base, and sprinkled in a pair of wild pitches during a three-run Rockies first.
The journeyman lefty, who pitched for the Brewers for parts of the 2003 season through all of 2006 before re-signing with the club this past winter, ended up lasting four-plus innings and gave up four runs on six hits and three walks.
Aaron Cook (0-1) reached 91 pitches in his 5 1/3-inning start for Colorado, yielding five runs -- four earned -- on seven hits and a walk.
Miguel Olivo hit a solo home run in his Colorado debut and Troy Tulowitzki had two hits, including an RBI double for the Rockies, who went 1-for-12 with runners in scoring position.