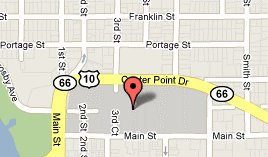 STEVENS POINT, Wis (WSAU) A small group of organizers want to put up a community garden on the site of the old Lulaby Furniture building in downtown Stevens Point. The city wants to use the land for a new apartment complex.
The community garden activists have been building raised planting beds on the property and have been planting seeds there. City officials have told the planters that they need to leave the area. So far, they've refused to go. Some have been camping out at the site overnight.
The city put up 'no trespassing' signs near the property yesterday. They were removed by the planters. It's not clear if police will remove the demonstrators from the land by force.