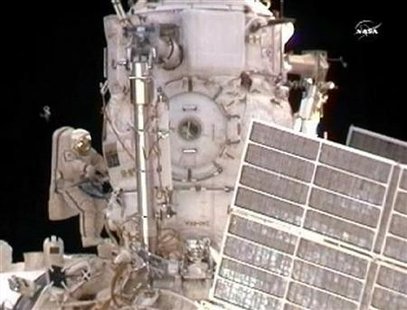 By Irene Klotz
CAPE CANAVERAL, Florida (Reuters) - A pair of spacewalking astronauts revived the International Space Station's cooling system on Monday during a third outing to replace a failed pump.
Station flight engineers Doug Wheelock and Tracy Caldwell Dyson slipped outside the orbital complex for the third time in 10 days to try to resolve a problem that took out half the station's cooling lines.
The July 31 shutdown triggered power conservation measures that halted science experiments and left the station without many of its backup systems.
While the crew was not in any danger, NASA was eager to restore the station to full power, but the repair proved tougher than originally envisioned.
During the first spacewalk on August 7, Wheelock couldn't wrest free a quick-disconnect fitting on one of the cooling system's ammonia lines. Wheelock and Caldwell Dyson returned to the station's exterior truss on August 11 to continue work to remove the failed pump module, needed to push ammonia through the lines. That spacewalk ended with the old pump removed, but the new one not yet installed.
During Monday's seven-hour-and-20-minute spacewalk, the astronauts bolted a spare pump into the truss and hooked up electrical connections and fluid lines.
"The pump is looking good," Oscar Koehler, from NASA's Mission Control at Johnson Space Center in Houston, radioed to the crew.
"Ahh, sweet!" replied Wheelock.
The U.S. space agency now hopes to restore the station to full power by Thursday, said NASA spokesman Rob Navias.
Wheelock and Caldwell Dyson still have some more work to do. In addition to putting away the old pump, they need to hook up an extension cable so the next shuttle crew can install a cargo pod that will be left permanently attached to the station for storage.
NASA has just two shuttle missions remaining to complete the $100 billion station, a project of 16 nations that has been under construction 220 miles above Earth since 1998.
Shuttle Discovery is scheduled to make its last visit to the station in November with the Leonardo storage pod and spare parts and equipment. Shuttle Endeavour is expected to follow in February with the Alpha Magnetic Spectrometer particle physics experiment.
Congress is considering adding an extra shuttle flight to resupply the station next summer before the three-ship fleet is retired.
(Editing by Jerry Norton)