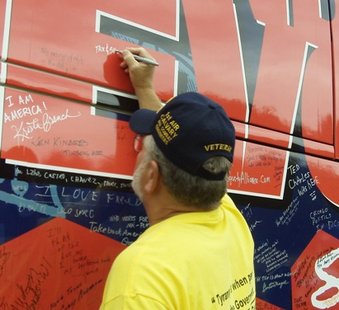 RIB MOUNTAIN, Wis. (WSAU) – Local citizens fed up with out-of-control government spending rallied in Rib Mountain Tuesday to push lawmakers out of office.
Many wrote their message on the side of a "Spending Revolt" bus. Others held handmade signs advocating for certain candidates in the fall election.
"First thing they gotta do is correct corruption in this country," said Erv Thums, a Vietnam veteran from Wausau. He said he has written Wisconsin's two senators and Congressman Dave Obey without any reply. Taking matters into his own hands, Thums now shares information about fiscal responsibility with friends through the Internet.
Organizers pointed $13 trillion and growing federal deficit as one reason for holding the rally. According to Americans for Prosperity, the federal government spends $112,000 every second or more than $1 billion in the more than two hours that Americans spend watching television every day.
"Enough is enough!" said an energized David King, who is a pastor from Milwaukee and candidate for secretary of state.
But supporters say they will not rest after electing new candidates in November.
"We cannot once again get complacent and become the frog in the pot of boiling water, swimming around, thinking life is wonderful while the heat is being turned up," said Wisconsin Prosperity Network executive director Linda Hansen. "We absolutely have to remain diligent."