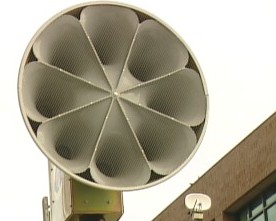 STEVENS POINT, Wis. (WSAU) – If you hear sirens in Stevens Point today, don't be alarmed, it's only a test.
The city has spent some grant money to improve and expand its network of emergency alert sirens. Police Sergeant Martin Skibba says the last time these systems were updated was back in the 80's, so any expansion is welcomed at this point. The city has grown about 5 square miles in size since then.
The new sirens are mainly being built on school property, a partnership Skibba says in beneficial to everyone. "This helps us cover the new business, residential and park areas that have opened up to the east of the city over the past several years.
Testing of those new sirens will begin this afternoon, and Skibba says people on the east side of the city will be the ones who hear them. After that, they'll go to their usual weekly testing Saturday afternoons.