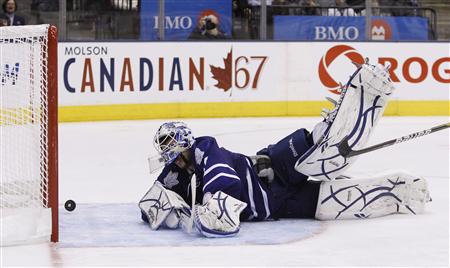 TORONTO (Reuters) - Martin St Louis sparked a late comeback as the Tampa Bay Lightning avoided losing a third consecutive game with a 4-3 overtime win against the Toronto Maple Leafs on Tuesday.
St Louis erased a 3-1 deficit with two goals in the third period, including a slap-shot with nine seconds left, sending the game into an extra session in which Simon Gagne scored the game-winner after 1:15.
Gagne was making his return from a neck injury that kept him out for 18 games and delivered the final blow in his first action in more than a month.
"My first practice with the team was Monday and I felt good, so I said 'let's give a shot to the game in Toronto'," Gagne told reporters. "To help the team win and get the winning goal in overtime - you can't ask for anything more."
NHL leading goal scorer Steven Stamkos, playing back near his birthplace in Ontario, registered an assist but went without a score for the third straight game, his longest drought of the season.
Tampa Bay (14-8-3) just about prevailed, despite falling behind early and forcing 35 saves out of goaltender Jonas Gustavsson, who was unable to contain the Lightning's final surge.
Nikolai Kulemin scored twice for the Maple Leafs (8-11-4) to give them a two-goal advantage after Toronto winger Kris Versteeg opened the scoring in the first and Tampa Bay's Ryan Malone tied it in the second.
After taking the initial lead, the Leafs thought they had a second goal in the first period when Luke Schenn had a shot that found the net but was waved off because it was ruled that Clarke MacArthur had interfered with goalie Dan Ellis in his crease.
"That should have been a goal," said Toronto coach Ron Wilson. "He was pushed into the crease by the defenseman as the puck was entering the net." (Editing by John O'Brien)