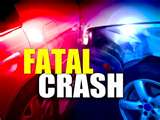 SARATOGA, Wis (WSAU) One person is dead after a three-vehicle crash in Wood County. It happened around 2pm yesterday in Saratoga when one car ran a stop sign at the corner of Highway 73 and County Road Z.
That car crashed into another vehicle that was crossing the intersection. The car was pushed into an oncoming SUV. The driver of the SUV was thrown from the vehicle and died at the scene.
The two other drivers suffered minor injuries.
The Wood County sheriffs department says charges are pending in the case. The victim's name will be released later today.