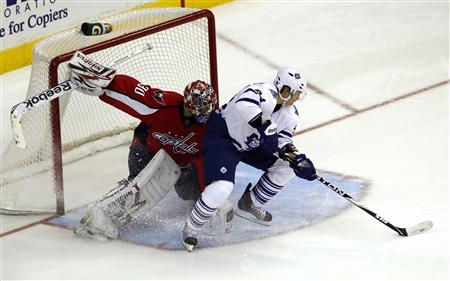 WASHINGTON (Reuters) - The Toronto Maple Leafs erased a three-goal deficit to beat Washington 5-4 in a shootout on Monday, handing the Capitals a third consecutive loss.
The Leafs scored three times in the third period, including Clarke MacArthur's goal with 84 seconds left in regulation that forced overtime.
Toronto goaltender Jonas Gustavsson turned aside all three of Washington's shootout attempts and Mikhail Grabovski scored on a backhand to give the Maple Leafs (10-12-4) the win.
"It's two small steps in the right direction," Gustavsson told reporters after making 32 saves. "We can't be happy with this, but it shows a lot of character coming back in games, working hard, no matter what the scoreboard (says)."
Mathieu Perreault had two goals for Washington (18-8-3) while Mike Knuble and Alex Ovechkin also scored for the Southeast Division-leading Capitals.
MacArthur had Toronto's first goal of the game while Grabovski and Tim Brent also scored.
Netminder Michal Neuvirth had 24 stops for the Capitals while Ovechkin scored for the second game in a row after going nine games without a goal, tying a career high.
In the last meeting between the teams on November 3 Toronto also scored three goals in the third, though on that occasion they fell short in a 5-4 shootout defeat.
Washington coach Bruce Boudreau said he had warned his team that the Maple Leafs could rally.
"I talked about what (the Leafs) did and that they're not going to quit and that they believe in themselves now a little bit and they're going to come out in the third period," Boudreau said.
"And they scored three goals to take the lead and we barely snuck by last time. It was something we were well aware of."