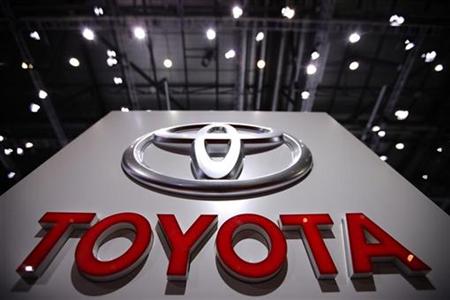 DETROIT (Reuters) - Toyota Motor Corp has regained the top spot among U.S. consumers who are considering buying a new car, followed closely by Ford and Honda, Kelley Blue Book said on Monday.
KBB's study for the third quarter of 2010 said 25 percent of new car buyers consider Toyota, followed by 24 percent for Ford Motor Co and 23 percent for Honda Motor Co.
In pickup trucks, Ford was the most considered, and in minivans, Honda was on top, KBB said.
The car results show "Toyota is slowly recovering from its public-perception crisis and regaining a position of prominence in the minds of new-car shoppers," said James Bell, executive market analyst with KBB.
But Bell cautioned that Toyota may not regain the standing it had before its recall and safety crisis.
About 11 million Toyota vehicles in the United States were recalled beginning in November 2009. Also, in early 2010, the company suspended sales and production of some of its most popular vehicles, including the Camry sedan.
Ford topped Toyota as the most-considered brand in the U.S. market in the KBB study for the three quarters prior to the 2010 third quarter. Toyota held the top spot from the first quarter of 2007 through the third quarter of 2009.
In the third quarter this year, behind the top three, were General Motors Co's main brand, Chevrolet, at 19 percent, Nissan Motor at 16 percent and Hyundai Motor Co at 13 percent.
While the study showed Toyota was the most considered brand, its share of the U.S. market through November 2010 fell to 15.2 percent from 16.8 percent in the first 11 months of 2009, according to Autodata.
Autodata shows Ford's share of the U.S. market rose to 16.7 percent from 15.3 percent. The U.S. leader in market share remains GM at 19 percent, down from 19.7 percent in 2009.
Among luxury brands, BMW was the most considered in the third quarter, followed by Toyota's Lexus brand, Volkswagen's Audi, Honda's Acura and Daimler's Mercedes-Benz.
Chrysler and Dodge minivans gained slightly among minivan buyers in the third quarter, KBB said. Those brands are managed and partly owned by Fiat.
The KBB study followed 37 brands sold in the U.S. market.
The five top factors new car shoppers indicated were important to them were, in descending order, durability and reliability, fuel efficiency, driving comfort, driving performance and safety.
(Reporting by Bernie Woodall; editing by John Wallace)