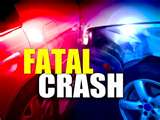 ALLENTON, Wis (WSAU) Two Fond du Lac men were killed and four others were injured yesterday, when a semi-truck plowed into vehicles that were stopped in traffic. It happened about 10 a-m on the Highway 41 expressway near Allenton in Washington County. According to authorities, the semi-truck was going south when it crested a small hill, and then hit two S-U-V's and a van. It caused the first S-U-V to strike a mini-van. Those vehicles had been stopped because of another chain-reaction crash that happened earlier. No one was hurt in that mishap.
Killed in the second pile-up were a 57-year-old man who was driving the first vehicle, and a 58-year-old man who was a passenger in the second S-U-V that was hit. Their names were not immediately released. The semi driver, a 62-year-old man from Malone, was hospitalized with non-life-threatening injuries. Two other women were seriously hurt, and a third woman had lesser injuries.
The truck was hauling ammonium hydroxide, but none of it spilled. Highway 41 was closed for the rest of the day, as the crashes caused back-ups of up to five miles.