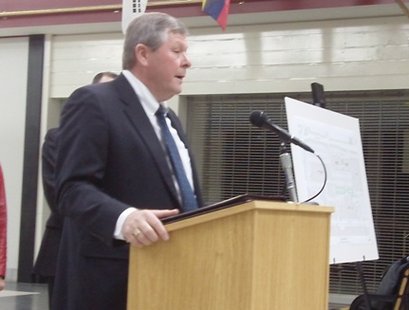 STEVENS POINT, Wis. (WSAU) – Stevens Point will demolish part of the CenterPoint mall next year to make room for a new downtown campus for Mid-State Technical College.
"This project has the ability to literally change the face of our entire city," Mayor Andrew Halverson said Thursday. "It represents on an unbelievable opportunity for us to seize on the success that Mid-State has and catapult that institution forward to be response to workforce development needs."
The city will build the campus then give the school exclusive rights to the property. The city's park and recreation department will move into Mid-State's campus on Michigan Street and the Boys and Girls Club will move into the old park and rec facility.
The move will nearly double the size of Mid-State's campus. That will help the school deal with a nearly 30 percent growth in enrollment over the last four years. The Stevens Point campus is one of three operated by Mid-State; the others include its flagship Wisconsin Rapids campus and its location in Marshfield.
Several parts of the plan will be approved in a series of meetings over the next few months. The City Council will decide Monday whether to start the process of borrowing $5.9 million through a tax increment financing district.
The project will actually decrease the city's tax base by $1 million. But Halverson said relocating 2,800 students downtown will generate more traffic and raise the value of the downtown area.
"We feel the importance of Mid-State's presence will more than make up for that," he said.