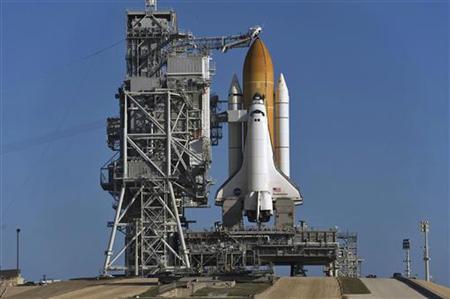 By Irene Klotz
CAPE CANAVERAL, Florida (Reuters) - Space shuttle Endeavour and its six crew members wrapped up a 14-day construction mission to the International Space Station on Sunday with a precision touchdown in Florida.
After 217 orbits around Earth and 5.7 million miles (9.17 million km), commander George Zamka circled Endeavour high over the Kennedy Space Center to burn off speed, then nosed the 100-ton ship onto a canal-lined runway at 10:20 p.m. EST.
Ending the space shuttle fleet's 130th mission, Endeavour landed three miles from where it blasted off on February 8.
"Welcome home," astronaut Rick Sturckow radioed to Zamka from Mission Control in Houston. "Congratulations to you and the crew on an outstanding mission."
"Houston, it's great to be home," replied Zamka. "It was a great adventure."
The space station, a $100 billion project of 16 nations, has been under construction 220 miles (354 million km) above Earth since 1998.
Endeavour carried the station's final connecting hub, named Tranquility, which will serve as a second living quarters for the resident station crew. The module has been outfitted with a toilet, water-recycling system, oxygen generator, air scrubber and exercise gear. NASA added a day to Endeavour's planned eight-day stay at the station so the visiting astronauts could help with the work.
Endeavour also delivered a dome-shaped observation deck featuring seven windows, providing a view the astronauts described as spectacular.
The new rooms, which were hooked up during three spacewalks by Endeavour astronauts Robert Behnken and Nicholas Patrick, are the last major components of the station.
130TH SHUTTLE MISSION
Joining Zamka, Behnken and Patrick aboard Endeavour were veteran astronauts Stephen Robinson and Kay Hire, and rookie pilot Terry Virts.
NASA plans four more shuttle flights to complete delivery of spare parts and science experiments to the station. The United States then intends to retire its three space shuttles before the end of the year.
The Obama administration has decided to cancel a planned follow-on program intended to return U.S. astronauts to the moon, due to cost concerns. Instead, NASA is being redirected to develop technologies for an eventual human expedition to Mars that would be conducted in partnership with other countries, similar to the space station program.
The U.S. space agency also wants to seed development of commercial space taxis so the station will not be solely dependent on Russia's Soyuz capsules to transport crews to and from the outpost.
With the shuttles' retirement, only the Russian and Chinese governments will have the ability to put people into orbit.
The cancellation of the moon program, called Constellation, as well as the spending of government money for private space launch companies has sparked heated debate in Congress, at NASA field centers and surrounding communities, and among aerospace contractors.
Also Sunday, NASA was investigating a series of main computer crashes aboard the space station. The problem did not impact any life support systems, NASA said.
Preliminary analysis indicated the problem may be with communications software in the European Space Agency's Columbus laboratory. The crashes temporarily knocked out the crew's audio and television links with Mission Control.
NASA's next shuttle mission is scheduled for launch in April.
(Editing by Tom Brown and Chris Wilson)