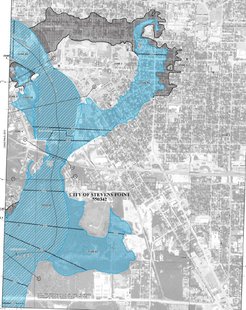 STEVENS POINT, Wis. (WSAU) - The city of Stevens Point is asking a group of engineers to research what it would take to bring the New Page levy downtown up to specs to match new requirements from federal authorities.
Mayor Andrew Halverson says the end outcome should be getting downtown off the 100-year-floodplain charts. That designation was placed in 2007 when FEMA and the Army Corps of engineers determined that the seawall was not up to snuff, and wouldn't withstand a major flood.
Halverson says that means residents downtown and in Center City need to buy flood insurance each year, which gets quite costly, and is an impediment to buying or selling a home.
He says removing that requirement should help homeowners keep their houses in tough times, and encourage more people to live closer to the downtown area.
Halverson says the engineers will get back to the city, so that the reconstruction can be planned for in the 2011 budget. He added that a special assessment might be placed on the affected area, but that the price would be less than the cost of flood insurance each year.