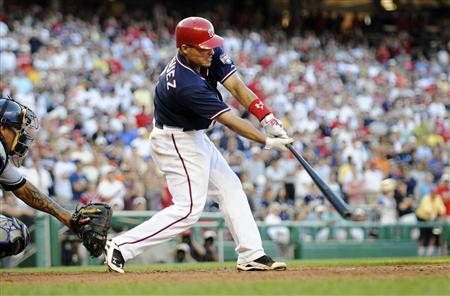 WASHINGTON (Reuters) - The Washington Nationals scored three runs in the bottom of the ninth inning to rally for a 6-5 win over the New York Mets.
Ivan Rodriguez capped the comeback with a bases-loaded RBI single off Mets reliever Francisco Rodriguez, who suffered his fourth blown save of the season.
Adam Dunn tied the score a couple of batters earlier with a bases-loaded double off the top of the wall. The play was reviewed with the call on the field standing.
The Mets built a 2-0 lead through three innings by capitalizing on Stephen Strasburg's early control issues.
Strasburg threw 37 pitches and walked three batters and gave a double in the first inning but escaped further damage by getting out of a bases-loaded jam.
"He just got behind in the count. His pitch count was high in the first inning, but he came back and pitched five innings," Rodriguez said. "It's a learning process for him."
He gave up three singles and a run in the third inning, before leaving the game trailing 2-0, having struck out five and conceded four hits and three walks.
"It wasn't one of the greatest performances," Strasburg told reporters. "But the guys came through today. It was an awesome win."
A fielding error by Mets shortstop Ruben Tejada allowed the Nationals to score two unearned runs in the sixth inning to forge a tie, marring a strong performance by Mets starter R.A. Dickie who gave up six hits in seven innings while striking out four batters and walking two.
The Mets regained the lead in a three-run eighth inning sparked by a leadoff triple by Alex Cora.
The Nationals narrowed the lead to 5-3 in the bottom half of the eighth when Adam Kennedy drove in Dunn. Matt Capps pitched the ninth inning for the Nationals to earn the win.
(Reporting by Mike Mouat in Windsor, Ontario. Editing by Ian Ransom)