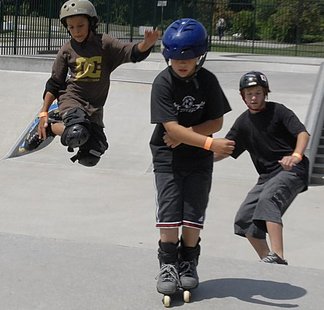 STEVENS POINT, Wis. (WSAU) – Stevens Point's city council has approved the construction of a new skate park at Bukolt Park.
The $332,000 project will be built by Miron Construction starting next week. Mayor Andrew Halverson says the approval is the work of nearly 5 years of planning, fundraising, and political wrangling. "This is something that communities should be building, something to bring all the members together."
The park will be a bowl type structure built into an area between the parking lots and boat landings at Bukolt Park. Halverson says they went to the skaters to help determine what kind of park they were looking for. "We were looking for a permanent structure, something that the city can be proud of." The pool-like structure will offer ramps, lips and other features for skaters to do tricks off of.
The money is coming from both the city, and from $160,000 in fundraising over the past 5 years by the skate park committee. Halverson says it's money well spent to invest in the needs and hobbies of the youth of Stevens Point.
Work on the park will start the 29th, and will be hopefully completed by September.