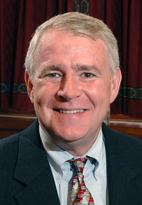 STEVENS POINT, Wis (WSAU) Gubernatorial candidate Tom Barrett made a campaign visit to Stevens Point yesterday. He took a walking tour of downtown and spoke to local business owners. He was joined by state senator Julie Lassa and state representative Louis Molepski.
Barrett said creating new jobs will be his top priority. He promised a review of the state tax code and state departments like commerce and WHEDA. He said programs that aren't working will be eliminated. Those that are working will be strengthened.
Barrett, the mayor of Milwaukee, is the likely democratic nominee for governor. He won't know his republican opponent until after a three-way primary September 14th.