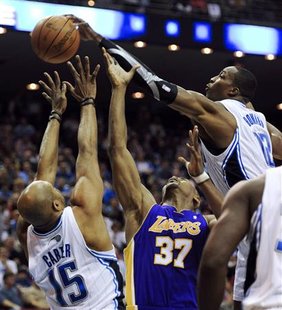 LOS ANGELES (Reuters) - The Orlando Magic held off the Los Angeles Lakers for a 96-94 win on Sunday, with Kobe Bryant missing the chance to tie the game as time expired.
In a rematch of the 2009 NBA Finals, Vince Carter had 25 points for the Magic, who overcame a game-high 34 points from Bryant.
Bryant tallied 18 in the fourth quarter where the Lakers came back from 10 points down before losing their third game in a row. It is the first time the Lakers (46-18) have dropped three in a row since January 2008.
Orlando (44-20) recorded their fifth consecutive win, with all five starters scoring in double figures.
"I'm glad that (Kobe) missed. We didn't make free throws but we got the win and that's all that matters," Orlando's Dwight Howard, who scored 15 points and grabbed 16 rebounds, told reporters.
"They beat us last year and we wanted to show them they're not going to beat us anymore."
The Magic led for nearly the entire game, taking a 74-64 advantage into the fourth before the defending NBA champions made scoring eight points to start the final quarter.
With Los Angeles down by three, Bryant made what he thought was his second successive three-pointer to tie the game with 12 seconds left, but his foot was on the line and the visitors were left still trailing by one.
Carter split a pair of free throws to put the Magic up by two and give the Lakers one last chance, but Bryant missed his shot.
Tensions were high throughout the game with Orlando forward Matt Barnes frequently getting involved with Bryant during the second half. The two players were assessed technical fouls during one confrontation.
Pau Gasol recorded 20 points and 11 rebounds as the Lakers lost three in a row, all on the road, for the first time since acquiring the 7-foot Spaniard two years ago.
"Everybody is gunning for us," said LA forward Lamar Odom. "It's tough to put yourself in a position to repeat (as champions). We have to understand that."
(Reporting by Jahmal Corner in Los Angeles; Editing Peter Rutherford)