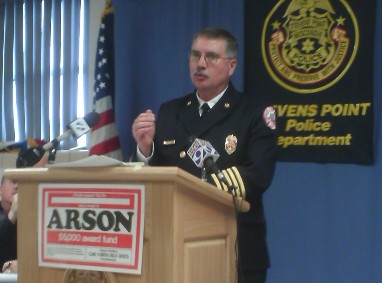 STEVENS POINT, Wis. (WSAU) – Stevens Point police need your help finding an arsonist who has set 20 fires since May 2008.
"We take this very seriously," Chief Kevin Ruder said during a morning news conference.
Police say the fires were set during the overnight hours to occupied and unoccupied homes and garages and have caused significant damage.
No one has been injured.
One of the 19 fires occurred in the village of Plover. The rest happened in Stevens Point.
"We do not have a prime suspect or person of interest," said police and fire commission administrative director Jeff Morris.
Police are urging neighbors to call in suspicious activity
"Cases are solved with information," Morris said. "People may not realize they have pertinent information. We will follow up on every call we receive."
You may call Stevens Point police at 715-346-1501 or the Portage County Crime Stoppers line at 1-888-346-6600. A $5,000 reward is being offered for information that leads to the arsonist's arrest.
Police will increase patrols in the areas where the fires have been set. That area is generally north of Main Street and east of the Wisconsin River in a part of the city dominated by rental properties.
The most recent fire occurred early Tuesday at a Stanley Avenue home rented by college students. A passerby found a burning bag of garbage next to an open propane tank that the arsonist had removed from a nearby grill.
Morris and Ruder would not speculate on a theory behind the fires. But police have ruled out that the fires are connected to a series of five unsolved garage fires in Wausau in November.
"There is no credible evidence to link these two events," said Joell Schigur, special agent in charge for the state division of criminal investigations.