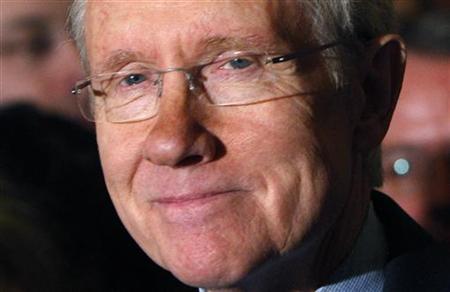 WASHINGTON (Reuters) - The wife and daughter of Senate Majority Leader Harry Reid were seriously injured on Thursday when their vehicle was rear-ended by a truck on a highway, the senator's office said.
Reid's wife, Landra, 69, was in serious condition with a broken back, neck and nose at a Washington-area hospital, but the initial prognosis was that she would not require surgery, a spokesman for Reid said.
His daughter, Lana, 49, suffered a neck injury and facial lacerations, and was expected to be released Thursday night, the spokesman said.
"Both Mrs. Reid and Lana are conscious, can feel their extremities, and, according to doctors, their injuries are non-life threatening," a statement from Reid's office said.
Reid, a Democrat, went to the hospital and then went to Capitol Hill for meetings on healthcare reform with White House officials and House of Representatives leaders. He later returned to the hospital.
Congressional Democrats were drawing closer to agreement on a broad healthcare overhaul after months of legislative gridlock on President Barack Obama's top domestic priority.
CNN reported that the driver of the truck was charged with reckless driving.
(Reporting by Tabassum Zakaria and John Whitesides; Editing by Doina Chiacu)