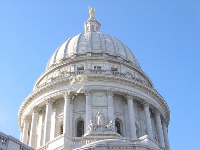 MADISON, Wis. (WTAQ) - Madison's Freedom from Religion Foundation will hold a rally at the State Capitol on Thursday, to protest government observances of the National Day of Prayer.
The foundation recently convinced Federal Judge Barbara Crabb to rule the day unconstitutional – a ruling the Obama White House is appealing. Judge Crabb said the prayer day violates the First Amendment's ban on government-endorsed religion. But she said her ruling would not be enforced until all appeals are exhausted.
So the White House went ahead and issued a national proclamation for Thursday's prayer day. Annie Laurie Gaylor, co-president of the Freedom from Religion Foundation, said her group is posting signs on Madison city buses about the founding fathers' stance on the separation of church and state. And the group has written over 1,000 mayors, urging them not to take part in the National Day of Prayer or issue proclamations for it.
Superior Mayor Dave Ross says volunteers in that city hold a prayer day separate from city government. He takes part on his own – and he says it's wrong that America would be better off if we had no religion or faith. The foundation argues that a separation of church and state benefits everyone.