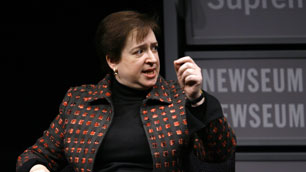 WASHINGTON D.C. (WTAQ) - President Obama is nominating Solicitor General Elena Kagan as the 112th justice of the U.S. Supreme Court. In a White House ceremony, the President said Kagan is widely regarded as one of the nation's top legal minds. Obama called her fair-minded and cited her skill as a "consensus builder." The 50-year old Kagan, a native of New York, is the nation's first female solicitor general.

The solicitor general is a key Justice Department official who argues government cases before the Supreme Court. Kagan has degrees from Princeton, Oxford and Harvard Law School. She's a former dean of Harvard Law who also worked in the Clinton White House, taught at the University of Chicago Law School and clerked for the late Supreme Court Justice Thurgood Marshall.

If confirmed by the Senate, Kagan would succeed retiring Supreme Court Justice John Paul Stevens. She would also become the first justice in nearly 4 decades who has no prior experience serving as a judge. Additionally, Kagan would become only the 4th woman to ever serve on the Supreme Court. Some Democrats have complained that Kagan is too moderate to replace Justice Stevens, the most liberal member of the Supreme Court. Stevens will retire when the court's annual session ends, early this summer.
President Obama wants a new justice in place when the high court reconvenes in October. Obama praised Stevens for being a consistent voice of reason for decades.