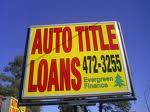 UNDATED (WSAU) The auto title loan industry is fuming, after Governor Jim Doyle used his partial veto power to put those lenders out of business in Wisconsin.
Doyle eliminated the Legislature's compromise on auto title loans, when he signed the bill that regulates the pay-day loan industry. The governor said yesterday that most states ban cars as collateral for loans, so it's not like he did anything unusual. Doyle said he's seen too many hard-working people lose their vehicles because they cannot pay back their loans.
But Milwaukee attorney Edward Heiser, who represents an auto title loan company, called Doyle's veto an "incredible anti-business stroke of the pen." And others in the industry say title loans are the only option for low-income people who cannot get bank loans.
The new law takes effect December first. Madison lawyer Fred Wade said Doyle was not only acting as a legislator – but also as quote, "judge, jury, and executioner for this particular industry." And Wade said it would encourage lawmakers to pass yet another limit on the governor's partial veto power.
Both houses approved a constitutional amendment in the last session allowing the governor to veto only entire sections of spending bills. Governors could no longer veto individual words to create a new sentence, like Doyle did when he dropped the last 33 words of the auto title loan compromise. If lawmakers approve the amendment again next session, it would go to the voters for final action.