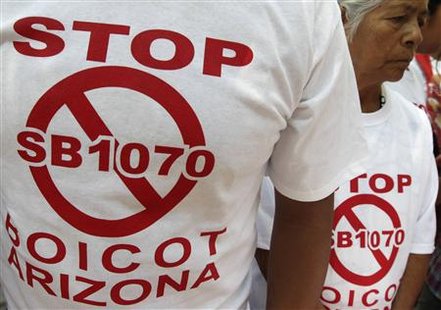 By Tim Gaynor
PHOENIX (Reuters) - Critics and supporters of Arizona's crackdown on illegal immigrants held separate rallies in the state on Saturday, highlighting the deep rift over immigration ahead of congressional elections this November.
Thousands of civil rights and labor activists from across the United States -- carrying banners that read: "Obama Keep Your Promise" -- rallied in Phoenix to protest the law, which requires state and local police to investigate the immigration status of people they suspect are in the country illegally.
Opponents charge the law is unconstitutional and will lead to racial profiling of Hispanics, who make up about a third of Arizona's population. Roughly 11 million people are thought to be living in the United States illegally.
Later in the day, several thousand people held a smaller counter-rally outside Phoenix in support of the measure, which is supported by a solid majority of voters both in Arizona and nationally.
Passed by Republicans in Arizona's state Legislature, the law is due to take effect on July 29, subject to legal challenges. It seeks to push illegal immigrants from the desert state, a major corridor for migrant and drug smugglers crossing from Mexico.
The law comes at a difficult time for President Barack Obama, who has failed so far to deliver on his promise to Hispanic voters of an immigration overhaul. His Democratic Party faces a tough fight to maintain its congressional majorities in elections this fall.
"He can stop this. He promised to be fair with us, and he is not doing anything," said Silvia Andrade, 52, a business owner who drove to the protest rally from California.
The protesters marched several miles (km) in blazing sunshine through the center of Phoenix to the Arizona state Capitol. They want Obama to order federal authorities not to accept custody of illegal immigrants detained under the law.
They are also calling on his administration to revoke the so-called 287g agreement, which deputizes officers from local police agencies to enforce federal immigration laws.
Supporters of the law held their own rally later on Saturday at a baseball stadium in nearby Tempe.
"I agree with the law 100 percent. ... It's the same law the United States government has, only they are refusing to enforce" it, said Charles Ratliff, a retiree who drove from Texas to attend the event.
POSTERS AND PINATAS
Phoenix police said there were no altercations or arrests, although about 20 people were treated for heat- and fatigue- related conditions.
"We want to stop the spread of the law around the country," said Pablo Alvarado, director of the National Day Laborer Organizing Network, one of the organizers of the protest march.
Many activists at the protest wore T-shirts reading: "Indocumentado" -- undocumented in Spanish. Some carried U.S. flags and posters that said: "Legalize Arizona."
One group had a pinata plastered with a picture of Arizona Governor Jan Brewer, and the words "Racism is ugly."
Obama and U.S. Attorney General Eric Holder have both expressed concerns over the state law, and speculation the administration could challenge it grew this week after officials met with a legal team appointed by Brewer..
(Additional reporting by Dana Ford in Los Angeles; Editing by Peter Cooney)