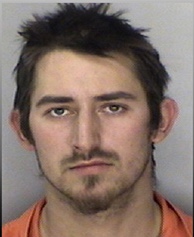 WAUPACA, Wis. (WSAU) – A jury trial began Monday in the case of a Weyauwega man charged with crashing into another man in October 2004 then driving away without offering any help.
Rory Kuenzi is charged with homicide by intoxicated use of a vehicle and hit-and-run resulting in death. He faces up to 40 years in prison if convicted.
Prosecutors say he ran into 20-year-old Kevin McCoy with his truck just outside Waupaca. A passerby found McCoy's body in a ditch on a rainy morning following an underage drinking party that both men attended, according to court documents.
A Dodge County jury heard testimony from the people who discovered McCoy's body and sheriff's investigators who collected evidence from the scene.
The trial is scheduled to last all week.
(Thanks for help Jack Berry, WDUX-Waupaca)