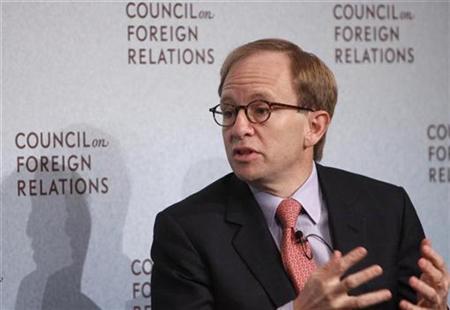 By Jonathan Stempel and Megan Davies
NEW YORK (Reuters) - Steven Rattner, the former Obama administration auto industry czar, was sued by New York's attorney general for allegedly paying kickbacks to win investments from the state's public pension fund.
Rattner separately settled a related U.S. Securities and Exchange Commission civil lawsuit, agreeing to pay $6.2 million and accept a two-year ban from working with an investment adviser or broker-dealer. That accord requires court approval.
Andrew Cuomo, the New York attorney general and governor-elect, sued Rattner on the same day that General Motors Co, whose emergency rescue Rattner helped oversee, began trading on the New York Stock Exchange following a $20.1 billion initial public offering.
Cuomo and the SEC alleged Rattner entered quid pro quo arrangements with the New York State Common Retirement Fund to obtain $150 million in investments for his private equity firm, Quadrangle Group LLC, in 2005 and 2006.
The attorney general is seeking to recover at least $26 million from Rattner and permanently bar him from the securities industry in New York.
His allegations include charges under the state's Martin Act, a powerful law used to combat securities fraud.
"Steve Rattner was willing to do whatever it took to get his hands on pension fund money," Cuomo said in a statement. "Through these lawsuits, we will recover his ill-gotten gains and hold Rattner accountable."
SEC enforcement chief Robert Khuzami added in a statement: "New York State retirees deserve investment advisers that are selected through a transparent, conflict-free process."
Alan Hevesi, who at the time oversaw the Common Retirement Fund as New York's comptroller, pleaded guilty last month to a felony corruption charge related to the "pay-to-play" probe involving the now $132.4 billion fund. Rattner is the most prominent outside executive charged.
RATTNER SAYS WILL NOT BE BULLIED
Rattner, 58, pledged to fight Cuomo's lawsuits.
"This episode is the first time during 35 years in business that anyone has questioned my ethics or integrity," Rattner said in a statement.
"That's why I intend to clear my name by defending myself vigorously against this politically-motivated lawsuit," he said. "I will not be bullied simply because the Attorney General's office prefers political considerations instead of a reasoned assessment of the facts."
James Fanto, a corporate and securities law professor at Brooklyn Law School, said it is "no surprise" Cuomo is pressing ahead even as the SEC settles, given that the latter is still seen as "too close to the financial services industry, particularly when it deals with big-time targets.
"It's also that this case involved the New York pension system and Cuomo has vowed to clean up Albany," Fanto added, referring to the state capital. "The two-year ban that the SEC imposed is not significant for someone of Rattner's stature."
"CHOOCH"
Cuomo and the SEC said the kickbacks included an agreement for a Quadrangle affiliate to distribute a DVD of "Chooch," a low-budget film produced by the brother of the Common Retirement Fund's chief investment officer David Loglisci.
The regulators also accused Rattner of funneling more than $1 million of sham "finder" fees to Henry "Hank" Morris, a top political adviser to Hevesi.
A Cuomo spokesman, Richard Bamberger, said in a statement that Rattner refused to answer questions 68 times when questioned under oath about his pension fund dealings.
Quadrangle agreed in April to pay $7 million to New York and $5 million to the SEC to settle its part of the probe.
A Quadrangle spokesman declined to comment Thursday on the Rattner charges.
The probe has at times overshadowed Rattner's role on the Obama administration's auto task force, which oversaw the restructuring and now-completed bankruptcies of GM and smaller rival Chrysler LLC.
Rattner has also been on a promotional tour this month for the book "Overhaul," his account of the rescue.
Cuomo's lawsuits include the addition of Rattner as a defendant to a forfeiture lawsuit against Loglisci and Morris and a separate complaint alleging Martin Act violations.
The SEC accord calls for Rattner to pay a $3 million fine and give up $3.2 million of improper gains. Rattner did not admit wrongdoing in agreeing to settle that case.
The cases are Cuomo v. Morris et al, New York State Supreme Court, New York County, No. 2009-400605; Cuomo v. Rattner in the same court; and SEC v. Rattner, U.S. District Court, Southern District of New York, No. 10-08699.
(Reporting by Jonathan Stempel and Megan Davies in New York; additional reporting by Grant McCool in New York and Rachelle Younglai in Washington, D.C., editing by Dave Zimmerman and Andre Grenon)