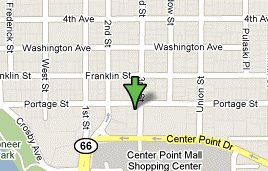 STEVENS POINT, Wis (WSAU) Stevens Point Mayor Andrew Halverson is mulling over whether to tear down a historic building. He says the costs of renovating the 102-year-old Eagle Plumbing site may be too expensive.
The city's Historic Preservation Committee looked at two proposals to save the building. Both cost too much money.
For now the building is cordoned off with a leaking roof and boarded-up windows.
The Community Development Corporation also favors tearing the building down. They may be fought by some activists who'd like the building turned into a community center. Mayor Halverson says a decision is coming in a few weeks.