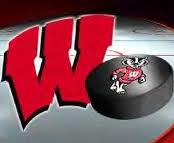 MADISON, Wis. (WTAQ) - An assistant hockey coach at the University of Wisconsin has to explain what might be a strange car insurance claim.
Gary Shuchuk says he was in a meeting with head Badger coach Mike Eaves and Bill Butters when he saw two horses run up the ramp into a parking lot.
Shuchuk says he thought that "was kind of weird." A few minutes later the coach says a man came up to him and told him his bumper had been damaged. Three more people followed, informing the coach about damage to his car. The horses apparently are to blame.
They belong to university police and were part of the security detail for last Tuesday's visit by President Obama. Word is, they were spooked by a train near the Kohl Center and Shuchuk's car wasn't the only one damaged by the runaway horses. The horses weren't injured.