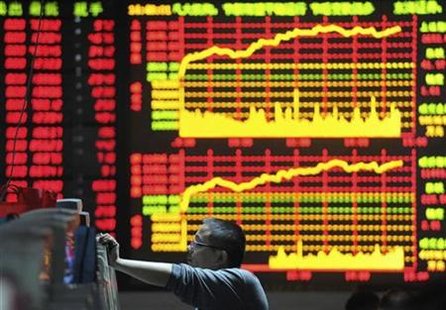 By Leah Schnurr
NEW YORK (Reuters) - As September's surge fades into a fond memory, the question for the U.S. stock market is: Now what?
The market shook off the summer doldrums last month, breaking out of a stubborn trading range and giving investors the second-best September on record with a gain of 8.8 percent on the S&P 500. It also racked up its best quarter in a year.
The strength of that momentum will be tested this week by a round of economic data, including the much-watched nonfarm payrolls report, as well as the start of third-quarter earnings season. The S&P has also been bumping up against a technical resistance level that could spark further gains if the index breaks through it.
Trading has been in a tight range the past week as the quarter wound down and the muted action could continue in the lead up to the employment report on Friday.
"People are still exhibiting a lot of fear in their investment decisions, with so much money flowing into bond funds and Treasuries, that any uptick in economic data could catch investors off guard," said Michael O'Rourke, chief market strategist at BTIG LLC in New York.
"That should help fuel a nice fourth-quarter rally in equities."
September nonfarm payrolls, due on Friday, are forecast to remain unchanged after a loss of 54,000 jobs in August, according to a Reuters poll of economists. However, the forecast range is wide, with a gain of 106,000 jobs on the upside and a loss of 75,000 jobs on the downside.
BREAKOUT COMING?
As the bulls and bears keep fighting over the stock market's direction, technical indicators have become more widely scrutinized. The S&P 500 has been bouncing between the 1,140 and 1,150 levels, but has fallen back from the top end of that range in the past six sessions.
While analysts have attributed some of September's move to "performance chasing," where gains beget more gains, O'Rourke thinks the real action might not happen until the fourth quarter.
"I view it more as a lot of people were sitting out the volatility, waiting for a trend to emerge," O'Rourke said. "If you get that breakout above 1,150 and it looks like it's a real breakout, that will give people confidence that a real trend has emerged to the upside."
History is on the market's side. A strong September usually portends a positive October and fourth quarter, according to Birinyi Associates Inc.
When September rises 5 percent or more, October is up, on average, 1 percent, according to data from Birinyi. Only in one occurrence following that type of September gain did the fourth quarter deliver a negative result, which happened in 1939.
KICKING OFF THE QUARTER
Analysts will be parsing comments from CEOs and other corporate talking heads as their companies release quarterly results to gauge how executives see the recovery unfolding. Investors have become more optimistic over the strength of recovery in the last month as worries of a return to recession have faded.
"I'm looking for companies to say things are not falling off a cliff. They're not rapidly improving, but we're starting to see this moderate, sustainable growth," said Kurt Brunner, a portfolio manager at Swarthmore Group in Philadelphia, Pennsylvania.
Alcoa Inc <AA.N> marks the unofficial start to earnings season when it reports quarterly results on Thursday. Other companies releasing results this week include Yum Brands Inc <YUM.N>, Costco Wholesale Corp <COST.O>, Monsanto Co <MON.N>, Micron Technology <MU.O> and PepsiCo Inc <PEP.N>.
Third-quarter earnings for the S&P 500 are forecast to grow 23.8 percent, though the estimate has shrunk slightly from the 25.6 percent that was predicted at the beginning of July, according to Thomson Reuters data.
On the economic front, pending home sales and factory orders for August kick off the week. Pending home sales are expected to rise 3 percent compared with a rise of 5.2 percent the month before, while factory orders are expected to dip 0.4 percent from a gain of 0.1 percent the previous month.
The Institute for Supply Management's September index for the non-manufacturing, or services, sector is expected to show a reading of 52, up from 51.5 the month before. The ISM services index will come out on Tuesday.
Wednesday will bring the ADP report for September, a precursor to the government's larger employment report for the month. The ADP data is forecast to show the private sector added 22,000 jobs last month.
In another glimpse of the labor front, initial jobless claims are expected to hold steady at 453,000 for the latest week, according to economists polled by Reuters.. That report is expected on Thursday.
And finally, wholesale inventories for August are expected to rise 0.5 percent, compared with 1.3 percent the month before. That data will come out at mid-morning on Friday.
(Reporting by Leah Schnurr; Editing by Jan Paschal)