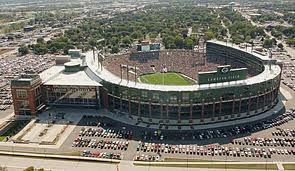 GREEN BAY, Wis (WSAU-TSN) The ailing Green Bay Packers will make a welcome return to Lambeau Field in Week 6, though the visiting Miami Dolphins could be a strong candidate to extend their pain.
The Dolphins, fresh off a Week 5 bye, have shown a significant comfort level with the road thus far in 2010, prevailing in Buffalo (15-10) and Minnesota (14-10) over the first two weeks before coming home and suffering disappointing defeats to the Jets (31-23) and Patriots (41-14).
That level of road success is hardly good news for Green Bay, which needed to bring extra copy paper into the team facility this week just to print out the injury report.
Packers quarterback Aaron Rodgers could sit out after suffering a concussion late in last week's 16-13 overtime loss to the Redskins, and Matt Flynn would make his first career NFL start if Rodgers is unavailable.
Green Bay tight ends Jermichael Finley (knee) and Donald Lee (chest) and linebacker Nick Barnett (wrist) are all out for Sunday, defensive back Derrick Martin (knee) was lost for the year in the Washington defeat, and defensive tackle Ryan Pickett (ankle) and NFL sack leader Clay Matthews (hamstring) are both question marks for Sunday.
All that, and the Packers will be trying to eradicate the bitter taste of last week's loss in Washington, a game that saw Green Bay blow a 13-3 fourth- quarter lead and fall a full game behind the hated Bears (4-1) in the NFC North.
Green Bay's chances were foiled in part by nine penalties totaling 63 yards, while Rodgers (27-of-46, 293 yards, 1 TD, 1 INT) threw the overtime interception that set the Redskins up for the win, and suffered a concussion on the same play. A couple of missed Mason Crosby field goals, from distances of 48 and 53 yards, didn't help either.
If Flynn opens the game on Sunday, it would be his first meaningful start since he helped lead LSU to the 2007 national title. The 2008 seventh-round draft pick has career NFL numbers of 9-of-17 passing for 64 yards and an interception.
As they look to prey upon the Packers' misery, the Dolphins will also be trying to eradicate the sting of the Week 4 home blowout loss at the hands of the Patriots.
Chad Henne threw for 302 yards, including a couple of long touchdown passes to Davone Bess and Ricky Williams, but the Dolphins committed four costly turnovers in the defeat and also had a dreadful night on special teams.
The Pats' Brandon Tate opened the second half with a 103-yard kickoff return for a touchdown, and the Dolphins also had two kicks blocked, including a field goal that was returned for a touchdown by Kyle Arrington to effectively put the game away early in the fourth quarter.
Following the loss, Miami fired special teams coach John Bonamego and elevated assistant special teams coach Darren Rizzi to his position.
The Fins are one of seven teams that have yet to suffer a defeat on the road in 2010, joining the 3-0 Eagles and 2-0 Buccaneers, Jets, Steelers, Texans and Titans.
Packers game coverage begins at 10am on WSAU. Kickoff is at noon.