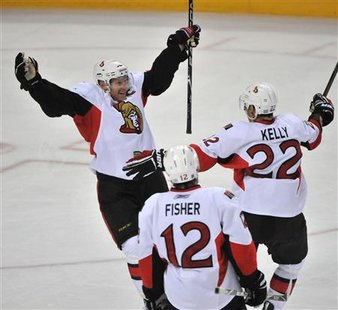 BUFFALO (Reuters) - Daniel Alfredsson scored three goals and reached 1,000 points in his NHL career as the Ottawa Senators snapped a two-game losing skid with a 4-2 win over the struggling Buffalo Sabres on Friday.
Alfredsson, sixth on the active points leaders list, became the 75th NHL player to record at least 1,000 points in a career when he scored into an empty net with 22 seconds remaining in the third period.
The Swedish forward opened the scoring with a power-play goal but Buffalo's Tim Connolly answered with his first goal of the night about two minutes later.
Ottawa again jumped in front when Ryan Shannon scored early in the third period but Connolly again evened the score with a goal when he scores about 80 seconds later.
Alfredsson put the Senators ahead for good with his second goal of the game midway through the second period.
The Sabres pressed for the equalizer in the third period by outshooting the Senators 20-5 but remain winless in five games at home this year.
With the win, the Senators moved into a tie with Buffalo at the bottom of the Northeast division with five points.
(Reporting by Mike Mouat in Windsor, Ontario. Editing by Frank Pingue)