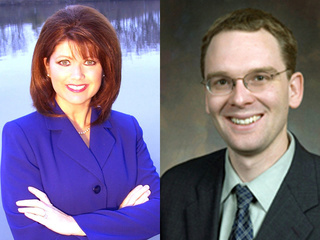 MILWAUKEE, Wis. (WTAQ) - Republican lieutenant governor candidate Rebecca Kleefisch apologized Thursday for what she said about domestic partner benefits in a radio interview in January.
Kleefisch was on Christian station WVCY in Milwaukee when she was asked about the extension of government fringe benefits to domestic partners. She said it was a "slippery slope" for the government to hand out money to anyone. She then asked, "At what point are we going to okay marrying inanimate objects? Can I marry this table, or this, you know, clock? Can we marry dogs? This is ridiculous."
WISN, the TV station where Kleefisch used to work, ran a story this week about a protest at UW-Waukesha about her remarks.
Thursday, Kleefisch said she meant to highlight her concern about re-defining marriage – and she didn't mean to be insensitive. The gay rights' group Fair Wisconsin told its supporters this month that it's not the type of thing to be said by, "sensible and decent Wisconsinites."
Kleefisch is running with GOP gubernatorial candidate Scott Walker. Fair Wisconsin has endorsed Walker's Democratic opponent, Tom Barrett. Barrett's running mate, Tom Nelson, said voters deserve to know if Walker agrees with Kleefisch that, "those who don't share her dogma are dogs."