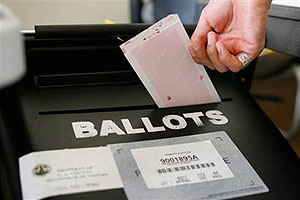 JANESVILLE, Wis. (WTAQ) - As people gather in Washington, D.C., for Comedy Central's "Rally to Restore Sanity," residents in the city of Janesville are holding their own version.
Janesville City Council member Yuri Rashkin says he felt it was needed to make an important point ahead of Tuesday's elections - that there's always a need for people to discuss the issues in a civil manner.
Rashkin doubts they'll get the nearly 1 million people expected at the rally in the nation's capitol, but he still expects a good response. The event will feature local politicians and speakers from both major political parties.
Rashkin says it's all about making sure voters head to the polls armed with knowledge that will help them make informed decisions.