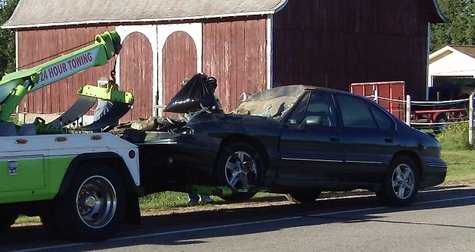 (Updated with new details)
TOWN OF PLOVER, Wis. (WSAU) – Two Antigo High School students escaped serious injury Thursday morning after they rear-ended a stopped school bus in northeastern Marathon County.
The car driver was blinded by the morning sunlight when he crashed into the school bus just before 7 a.m. on Highway 52 in the town of Plover, said Marathon County patrol Lieutenant Dale Wisnewski. The driver will not be cited.
"The deputy was able to put himself in the same position of the driver of the car and he had a very difficult time seeing the bus when he was responding because of the sun," Wisnewski said.
The bus had just picked up four students on their way to Antigo High School. No one aboard the bus, which is owned by Antigo-based Malliette Bus Company, was injured.
"We feel very fortunate that everyone is OK and back to a normal school day," said Antigo school superintendent Roxann Bornemann. She said the students eventually made it to school.
The crash reduced traffic to one lane. The Wisconsin State Patrol directed traffic but reopened the road to both lanes about 90 minutes after the crash happened.