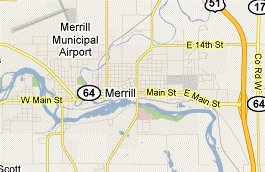 MERRILL, Wis (WSAU) Parts of downtown Merrill were evacuated late yesterday afternoon because of a gas leak. City construction crews struck a gas line while they were working on a road behind city hall.
The incident happened around 4pm. People within a one-and-a-half mile radius were told to leave as a precaution. Everyone was allowed back about an hour later.
The Merrill fire department is investigating. They say the road crew was not at fault. There were given inaccurate maps of the pipes and utilities below the road.