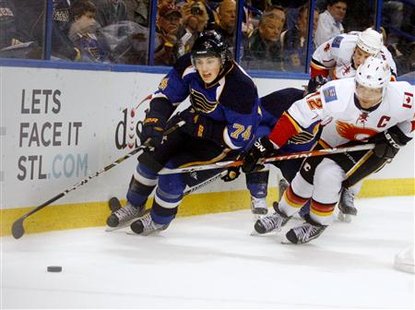 ST. LOUIS (Reuters) - Jarome Iginla tallied his 1,000th career point to lift Calgary to a 3-2 comeback victory over the St. Louis Blues on Friday, keeping the Flames alive in the playoffs hunt.
Iginla scored two goals and had an assist as the ninth-placed Flames (39-29-11, 89 points) kept in touch with the Chicago Blackhawks (42-27-8, 92 points), who hold the eighth and final playoff spot in the Western Conference.
"When I started, I never would have thought of that and it wasn't something I was thinking about year in and year out or anything like that until maybe the last few," said Iginla.
"It just makes me reminisce and how much fun it's been and how fortunate I've been to play as long as I have."
Calgary have three games remaining in the regular season, while Stanley Cup defending champions Chicago have five.
The Blues built a 2-0 lead on goals by Matt D'Agostini and David Backes before Iginla cut the lead with his first goal of the game in the second period.
"We played a great game for the first two periods," said Blues defenseman Kevin Shattenkirk, who assisted both St. Louis goals.
"They started to gain a little momentum back at the end of the second period there. I think we just didn't come out the way we needed to in the third period."
Iginla then assisted on Alex Tanguay's tying goal in the third period before scoring the game winner with just over five minutes left, finishing off a breakaway down the right wing with a snap shot under Jaroslav Halak for his 1,000th point.
(Reporting by Mike Mouat in Windsor, Ontario; Editing by Peter Rutherford)