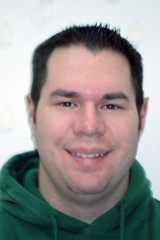 FOND DU LAC, Wis. (WTAQ) - The Fond du Lac police officer who survived a spate of gunfire 15 days ago will talk publicly about the experience for the first time on Wednesday.
33-year-old Ryan Williams is scheduled to appear at a news conference along with his K-9 partner Grendel.
Both were wounded on March 20th when 30-year-old James Cruckson shot a smattering of bullets from his home, as police were responding to a report of a sexual assault.
Officer Craig Birkholz was shot to death – another officer was hurt while falling down a stairway in the home – and Cruckson shot himself to death, all because he was upset that his girlfriend was seeing another man.
Doctors say Williams might have also been killed had he not worn two bulletproof vests. Cruckson and Birkholz had both served in Iraq. The slain officer had also served in Afghanistan.