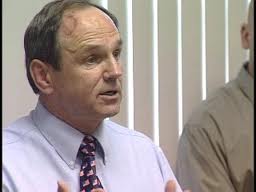 MADISON, Wis. (WTAQ) - State Capitol Police now say it was a stray rock – and not a vandal – that broke the windshield on Senate Republican Dan Kapanke's car on March 9th.

The police report which said the angle of the rock's impact showed that it came from the ground – and the stone was most likely thrown up by another vehicle's tires.

The incident happened on the same day Kapanke and other Senate Republicans approved the bill to limit public union bargaining, while thousands of protestors were both in and out of the Capitol.

Kapanke's office recently said the lawmaker found nails in the driveway of his home in La Crosse – and he received death threats by e-mail. Because of that, Kapanke said he was canceling public appearances to preserve his safety.

A Cross Plains woman has since been charged with making e-mail threats to a number of GOP lawmakers.

Kapanke is also the target of a recall campaign for his support of the union bill.