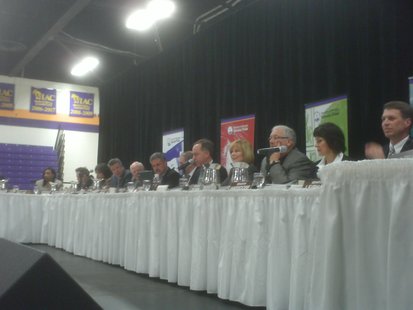 STEVENS POINT, Wis. (WSAU) – It was a quiet morning today at UW-Stevens Point for the start of an 8 hour public hearing on the upcoming state budget.
Early speakers this morning included Weston village administrator Dean Zuleger, who asked the board to consider requiring municipalities to make leaner budgets next year, as well as working towards cooperation among local government. "We've got too much parochialism, too much grandstanding, and too much duplication of facilities and equipment."
University spokesman Stephen Ward also says that the campus itself has a number of concerns when it comes to the upcoming budget, namely the possible change and dissolution of the UW-System. UW-Madison is attempting to break off from the rest of the campuses and become its own separate facility again, and Ward is asking for the same chance for the rest of the member campuses.
An estimated 3,000 to 30,000 people are expected to take part today. This is the first of four public hearings on the next two-year state budget. The Joint Finance Committee, which is the Legislature's budget writing panel, will be at the Quandt Fieldhouse taking public comments today until 6 p.m. The university has closed off 4th Avenue to traffic outside the facility during the hearing.
The committee has also scheduled hearings in Superior and West Allis.