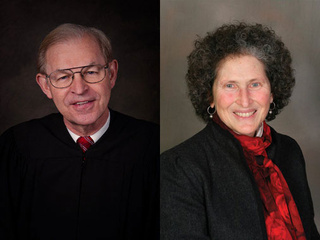 UNDATED (WSAU) A county clerk apologizes, and suspicions are raised after a computer error gave State Supreme Court Justice David Prosser a 7500 vote lead.
The dramatic shift came after a canvass of Tuesday's ballots in Waukesha County. Canvasses throughout the state are being closely watched, after the Election Night tally showed that Prosser lost to JoAnne Kloppenburg by 204-votes. County Clerk Kathy Nickolaus said she failed to save 14,000 votes from Brookfield on the computer totals which she gave to the media on Tuesday. About 11,000 of those votes were for Prosser, and 3,500 were for Kloppenburg.
Nickolaus said it was not a case of extra ballots being found.It was a computer input error. She failed to hit "save" once the Brookfield votes were entered on a vote-tally spreadsheet.
Brookfield's clerk said she gave the city's results twice to the county. Nickolaus said she was going to save them in the correct format, and didn't. State Government Accountability Board director Kevin Kennedy said his agency would review Waukesha County's numbers. He said mistakes like that happen all the time, but rarely in this magnitude.
Kloppenburg's supporters cried foul, especially because Nickolaus once worked for a G-O-P legislative caucus controlled by Prosser when he was the speaker of the state Assembly. She left in the late '90's – and Prosser's campaign manager said to his knowledge, the two haven't had contact since. Assembly Minority Leader Peter Barca said the disclosure raises suspicions, and an investigation might be warranted.
Prosser said he maintains faith in the election system and believes his lead from the canvass will be maintained. Kloppenburg's people vowed to get as many documents as possible to get to the bottom of what clerk Nickolaus did. Scot Ross, head of the liberal One Wisconsin Now group, said Nickolaus has a history of secrecy and partisanship – and unanswered questions remain.
In other canvasses yesterday, Prosser picked up much smaller numbers of votes in Winnebago and Kenosha counties. He lost votes in Grant County. The clerk there blamed the error on the fact that municipalities ran out of voting machine ballots due to the higher-than-expected turnout – and the rest had to be counted by hand. That was a common situation across the state, as the total turnout was around 33-percent instead of the state's estimate of 20. Once all counties complete their canvasses next week, the losing candidate can ask for a recount.