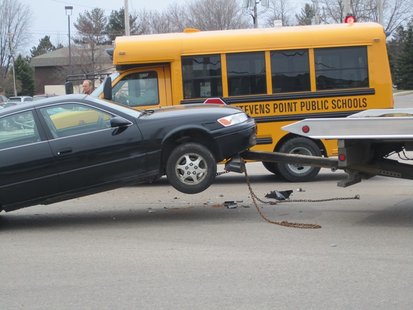 STEVENS POINT, Wis. (WSAU) – A driver who failed to stop for a red light crashed into a school bus in Stevens Point today.
The accident happened just after noon at the intersection of Division Street and Maria Drive.
The bus was taking three children home from the morning four-year-old kindergarten program, said district coordinator Heather Cramer. Another school bus came to pick up some of the children. The bus driver also was not hurt.
A 5-year-old girl complained about some neck soreness, said police Sergeant Paul Piotrowski. The girl's mother came to pick her up and wasn't sure if the girl would go to the hospital.
The car driver, who was not immediately identified, was cited for the accident.