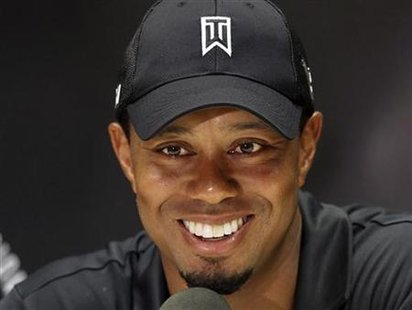 NEW YORK (Reuters) - Tiger Woods gave no timetable on when he will name a full-time replacement for former caddie Steve Williams but said on Tuesday there have been no shortage of applicants.
Woods will use childhood friend Bryon Bell as his interim caddie when he returns to PGA Tour action at this week's WGC-Bridgestone Invitational and most likely at next week's PGA Championship before naming a replacement.
"Right now, I'm trying to play this week with Bri, and hopefully next week as well, and maybe get myself in the playoffs," Woods said during a news conference at Firestone Country Club in Akron, Ohio, where he is a seven-times winner.
Bell caddied some for Woods during his early days but will step aside when a replacement for Williams is announced.
Woods, who has not played tournament golf since he pulled out of the Players Championship in May after completing just nine holes, said their have been numerous inquiries about the position since he fired longtime caddie Williams last month.
"People who are not caddies out here (on the PGA Tour), a ton (of interest)," said Woods, who injured his left knee ligaments and Achilles tendon during the Masters in April. "So yeah, we've gotten a lot of interesting ones."
He would not reveal any names.
Asked what type of person he wanted to carry his bag, Woods pointed to experience and ability to handle pressure.
"An experienced caddie who's been there before and understands it, knows how to handle the situation, that's something that I will definitely be looking for," said Woods.
The 35-year-old American also said he remained comfortable with his decision to fire Williams, who helped the former world number one win 13 majors, saying it was time for a change.
"Steve and I had just an amazing run," said Woods. "He's a helluva caddie. He's helped my career and I've helped his as well. I felt very comfortable with the move."
(Reporting by Gene Cherry in Raleigh, North Carolina; Editing by Frank Pingue)