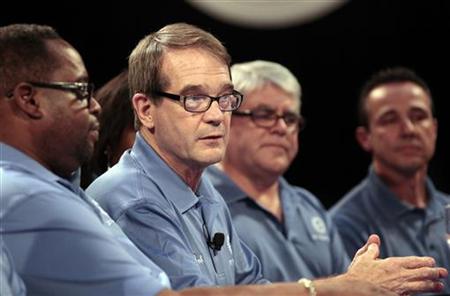 By Bernie Woodall
DETROIT (Reuters) - United Auto Workers President Bob King told union officials in a closed-door meeting he hopes to wrap up contract negotiations with Detroit automakers by mid-September, a person who attended the session said.
The comments by King on Tuesday represent the clearest signal yet the UAW is moving on a fast track in talks with the three Detroit automakers and could have a deal with each by September 14 when the current contracts expire.
King made the comments in a meeting at a hotel in Chicago with union leaders representing all of Ford Motor Co's U.S. plants, a union official who attended the meeting and asked not to be named told Reuters.
The union leadership has been sending signals contract deals will be made more quickly than in past, said Joel Cutcher-Gershenfeld, dean of the School of Labor and Employment Relations at the University of Illinois.
The "interests are more aligned now than they have been for a while," said Cutcher-Gershenfeld. "This time around, the issues that Bob King has signaled are an accurate signal of where these negotiations will go."
The last contract talks were held in 2007.
King, who became UAW president in the summer of 2010, said daily dialogue between union leaders and labor representatives at General Motors Co, Ford and Chrysler has brought about a less adversarial relationship than in the past.
At Tuesday's meeting, UAW officials representing Ford plants authorized strike votes to be completed by September 2, said Jimmy Settles, UAW vice president in charge of Ford negotiations.
"We will be taking routine strike authorization votes through September 2," said Settles. "This is a normal part of negotiations and something we have done historically as part of bargaining."
Settles declined to comment on other issues discussed in Chicago.
Ford is the only automaker the UAW could strike in the current round of contract talks. The terms of the 2009 U.S. government bailouts of GM and Chrysler Group LLC prohibit strikes. Chrysler has been managed by Italy's Fiat SpA since it emerged from bankruptcy in 2009.
PROFIT-SHARING, NOT WAGE RISE
King said at Tuesday's meeting that, instead of seeking wage increases for all 112,000 UAW-represented workers at the three automakers, negotiators would ask for profit-sharing from the companies, according to the person present.
He added the profit-sharing bonuses would be tied not only to financial performance, but to worker performance on such measures as work quality and good attendance.
"Bob King said that (union negotiators) want some up-front money (for workers) and it was clear that they are not going to bargain for any pay raises," said the person.
Each of the companies have signaled they like profit-sharing instead of wage increases because they are one-time costs that do not compound and accrue over time.
But King told the group negotiators will seek a "slight pay increase for second-tier workers," the person said.
Second-tier worker, also known as entry-level workers, are paid about $14.50 per hour to start, about half the pay of veteran UAW-represented auto workers.
King said negotiators will also seek a cost-of-living allowance from Ford, but was not specific, the person added.
(Editing by Gerald E. McCormick and Andre Grenon)