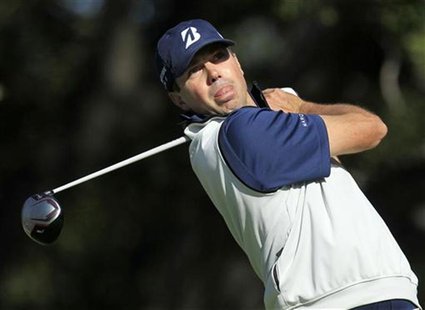 By Mark Lamport-Stokes
THOUSAND OAKS, California (Reuters) - Matt Kuchar found an unusual way to celebrate his dizzying run of success in global golf this month, spending a day at the spa with his wife Sybi in China.
A week after helping the United States win the Presidents Cup over the Internationals in Australia, Kuchar and his playing partner Gary Woodland clinched the World Cup for their country in Haikou, China on Sunday.
With his flight back to the U.S. not scheduled until Monday night, Kuchar decided to take advantage of an offer by World Cup hosts for him and his wife to enjoy the spa at the spectacular Mission Hills resort.
"The guy that hosted the event, Tenniel Chu is his name, he took care of our spa appointments for the day," Kuchar told reporters on Friday after firing a five-under-par 67 in the Chevron World Challenge second round.
"He said: 'What great playing, I'd like for you guys to enjoy the whole facility.' So my wife and I spent the whole day at the spa. It's the first time I've ever done that and it was a great way to celebrate."
Kuchar, a three-times winner on the PGA Tour who has climbed to 11th in the world rankings, said his only concern at the spa was enduring all the creams while having facial treatment.
"They put the mask on and cream and goop and gel and all the stuff," he said as the entire interview room erupted in laughter.
"I didn't love all the stuff on my face. I enjoy the massaging part, but all the extra stuff I could have done without. But I did feel like I looked completely refreshed afterwards. I felt like I had a real shine to my face."
In-form Kuchar was delighted to move into a share of second place with South Korean KJ Choi at the Chevron World Challenge on Friday.
The duo will go into Saturday's third round knotted at five-under 139, three strokes behind the pacesetting Tiger Woods, who is also the tournament host.
"It's been a good stretch for me the last couple weeks," Kuchar said after a round featuring seven birdies and two bogeys.
"I felt like I certainly could throw my hat there in the ring and then hope to try to catch them (the leaders). I am still three shots back but, with 36 holes to play, I've got some time to catch up."
(Editing by Julian Linden)